Shared Chimney Flues – Legal or not?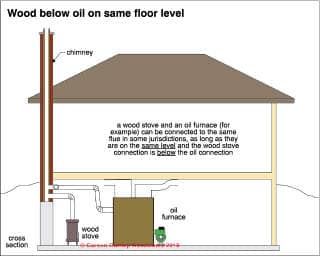 Shared flues can create fire and smoke spread hazards and carbon monoxide hazards in buildings. In some communities or jurisdictions for certain cases, it is permissible to share a single chimney flue among more than one heating appliance or fireplace.
But important safety constraints still apply.
Our photo (page top) shows two gas-fired appliances sharing a single flue.
In Carson Dunlop Associates sketch shown here, a wood fired heating appliance is sharing a flue with an oil fired heater, both entering the shared flue on the same floor (an essential reqirement).
Watch out: this arrangement is prohibited in many jurisdictions. For example per NFPA 31 and NFPA 211
Although two openings are permitted into a single chimney flue; NO combination of solid fuel-fired appliances are permitted to be vented into an oil-fired or gas-fired flue.